SAVE THE DATE:
MISSOURI RIVER CLEANUP — MAY 6
Volunteers are needed to pick up litter and trash on Saturday, May 6th. The Missouri River Cleanup makes the river healthier for fish and wildlife and a more pleasing place for people to recreate.
Registration starts at 8 at the picnic shelter near the boat ramp in Riverside Park in Yankton. The cleanup runs from 9-11:45.  Volunteers can then enjoy a picnic lunch prepared by the Friends of the Missouri National Recreational River (FOMNRR).
Typically, the cleanup attracts around 100 volunteers, who remove tons of trash from along the river.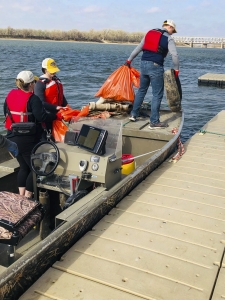 For more information, or to register, contact Tom Downs at the National Park Service: thomas_downs@nps.gov
or call 605-665-0209 x23 or 605-464-4032 (cell).



Please volunteer, the Missouri River needs your help!